Realizing Revival: Holy Holy Holy
Isaiah 6:1-7
New International Version (NIV)
Isaiah's Commission
6 In the year that King Uzziah died, I saw the Lord, high and exalted, seated on a throne; and the train of his robe filled the temple. 2 Above him were seraphim, each with six wings: With two wings they covered their faces, with two they covered their feet, and with two they were flying. 3 And they were calling to one another:
"Holy, holy, holy is the Lord Almighty;
the whole earth is full of his glory."
4 At the sound of their voices the doorposts and thresholds shook and the temple was filled with smoke.
5 "Woe to me!" I cried. "I am ruined! For I am a man of unclean lips, and I live among a people of unclean lips, and my eyes have seen the King, the Lord Almighty."
6 Then one of the seraphim flew to me with a live coal in his hand, which he had taken with tongs from the altar. 7 With it he touched my mouth and said, "See, this has touched your lips;your guilt is taken away and your sin atoned for."
Three pastors got together for coffee one day and found all their churches had bat-infestation problems. "I got so mad," said one, "I took a shotgun and fired at them. It made holes in the ceiling, but did nothing to the bats." "I tried trapping them alive," said the second. "Then I drove 50 miles before releasing them, but they beat me back to the church." "I haven't had any more problems," said the third. "What did you do?" asked the others, amazed. "I simply baptized and confirmed them," he replied. "I haven't seen them since."
Reader's Digest, July, 1994, p. 64.
While we might chuckle at that, and sometimes it seems to be an accurate description it is a sad commentary on our experience in the church. There are a lot of reasons people give for not going to church, and most of them are barely better than mediocre excuses to justify our own desire to be anywhere else except in the house of God.
One of the reasons that we come to God's house is to fellowship with Him. Yes, it is true that God is everywhere. Yes it is true that we can have "church" anywhere we gather together. It is also true that when we come to a place, any place, with the express intention to meet with God we find our thoughts more focused on Him, and our emotions more in tune with Him, and our actions more closely resembling the actions He desires. In short, when we come to church looking for God we FIND HIM!
Isaiah was in the temple (the "Official" dwelling place of God at that time) when he encountered God. King Uzziah was a bit of a mixed bag. He was perhaps one of the strongest, and most effectual kings they had. Jerusalem was secure and her people well equipped so despite his shortcomings Uzziah was mourned when he died.
It was during this period of mourning that Isaiah came to the temple. The scripture doesn't say exactly why he was in the temple that day just that it was in the year that the king had died. Perhaps he was there for some spiritual consolation, or perhaps he was there to encounter God.
Whatever his purpose for being in that place at that time was originally, the end result was that God's purposes were what happened. When one comes to God's house, one must expect to encounter God!
Come to Worship and See God's Majesty (v. 1-4)
Isaiah 6:1-4
New King James Version (NKJV)
6 In the year that King Uzziah died, I saw the Lord sitting on a throne, high and lifted up, and the train of His robe filled the temple. 2 Above it stood seraphim; each one had six wings: with two he covered his face, with two he covered his feet, and with two he flew. 3 And one cried to another and said:
"Holy, holy, holy is the Lord of hosts;
The whole earth is full of His glory!"
4 And the posts of the door were shaken by the voice of him who cried out, and the house was filled with smoke.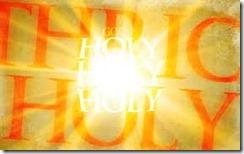 In these four verses a lot happens. There is a whole lot of activity both of a physical nature, and within the heart of Isaiah culminating in the foundations of the building (both the physical temple and the spiritual temple of Isaiah's soul) being shaken by the power of the being—whom we know to be God.
The very first thing we see in this set of verses is that God is HIGH AND LIFTED UP! God is in an exalted position above everyone else. This is the proper place for God. He deserves to be lifted up above everything mundane on earth and in the universe.
We also see that not only is God set on high, He is Holy. In verse 3, the heavenly creatures declared God to be Holy three times. This repetition is significant in Hebrew literature. Whereas we might provide an emphatic context by punctuation marks or printing conventions it was the practice of the people at the time to repeat something that was important.
Thrice the seraphim declared God to be holy. Not only did they repeat it three times, three is a number that is significant to the Hebrews signifying perfection or completeness. Therefore we can understand that God is perfectly (or completely) holy.
"When we understand the character of God, when we grasp something of His holiness, then we begin to understand the radical character of our sin and hopelessness. Helpless sinners can survive only by grace. Our strength is futile in itself; we are spiritually impotent without the assistance of a merciful God. We may dislike giving our attention to God's wrath and justice, but until we incline ourselves to these aspects of God's nature, we will never appreciate what has been wrought for us by grace. Even Edwards's sermon on sinners in God's hands was not designed to stress the flames of hell. The resounding accent falls not on the fiery pit but on the hands of the God who holds us and rescues us from it. The hands of God are gracious hands. They alone have the power to rescue us from certain destruction." 
― R.C. Sproul, The Holiness of God
Man cannot understand God apart from His holiness. There is no competent conversation that can explore the depths of God's grace without first having a discussion of His holiness. Holiness is as much a character trait of God as is His love.
Finally we see the power of God in His Holiness.
Zephaniah 3:17
The LORD your God is in your midst,
a mighty one who will save;
he will rejoice over you with gladness;
he will quiet you by his love;
he will exult over you with loud singing.
The Lord was in the house! When the Lord is in the house the place rocks! Literally! God's power is so great that the foundations of the temple began to shake! That's power!
Imagine what might happen at FBC HO if we prayed for the power of God to be unleashed in this place? What might happen if we acknowledged the supreme Holiness of God and just let Him be God? If we want to see revival we must come to worship and see the majesty of God!
Come to Worship and Bow Before God (v 5-7)
Isaiah 6:5-7
New King James Version (NKJV)
5 So I said:
"Woe is me, for I am undone!
Because I am a man of unclean lips,
And I dwell in the midst of a people of unclean lips;
For my eyes have seen the King,
The Lord of hosts."
6 Then one of the seraphim flew to me, having in his hand a live coal which he had taken with the tongs from the altar. 7 And he touched my mouth with it, and said:
"Behold, this has touched your lips;
Your iniquity is taken away,
And your sin purged."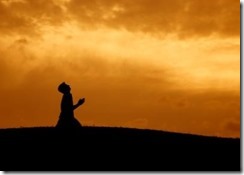 Isaiah's response to the overwhelming nature of God's holiness was a realization that he himself was not adequate. Isaiah realized that he had no business standing before a being as holy as the Lord God. If we are to experience revival we must recognize where we have fallen short and bow down before a holy God.
Isaiah knew what a wretched soul he was, and he realized that all that he had done, all that he had said, all that he was became insignificant in the presence of God.
John Calvin once said, "Men are never duly touched and impressed with a conviction of their insignificance until they have confronted themselves with the majesty of God."
We must stand before God and allow His power and majesty to reshape us in His will not ours. We must allow God to change us and make us into vessels of His grace.
As the prophet Habakkuk cried out in prayer to God he expressed his confidence in God's triumph in Habakkuk 3:16:
Habakkuk 3:16
Holman Christian Standard Bible (HCSB)
Habakkuk's Confidence in God Expressed
16 I heard, and I trembled within;
my lips quivered at the sound.
Rottenness entered my bones;
I trembled where I stood.
Now I must quietly wait for the day of distress
to come against the people invading us.
Friends, if we truly desire revival then it is time we stopped playing church. It's time we treated the Assembly of God's people as something more than a social gathering. It is time for us to refuse to bow down to no one, or nothing else that The Lord God. It is time that we stop disobeying God.
To realize revival we must recognize God's majesty (holiness) and bow down before HIM!