Solemn Assembly Notes
H.E.A.R.T
H—Hear God and His Heart
Psalm 46:10

New International Version (NIV)

10 He says, "Be still, and know that I am God;
    I will be exalted among the nations,
    I will be exalted in the earth."

Be Still and Listen. Really listen to God.
2 Kings 3:15

New International Version (NIV)

15 But now bring me a harpist."

While the harpist was playing, the hand of the Lord came on Elisha

Set your mind to worship. Worship may take many forms, and have many styles, but it is always ALWAYS ALWAYS focused on God. It must never be about us, or about what we want or perceive that we need. If worship is about anything else tonight we will not hear God's voice.
Fix Your Heart on God. Place Him first and listen for His guidance tonight.
Wait for God's Spirit.
Acts 2:1-4

The Message (MSG)

A Sound Like a Strong Wind

2 1-4 When the Feast of Pentecost came, they were all together in one place. Without warning there was a sound like a strong wind, gale force—no one could tell where it came from. It filled the whole building. Then, like a wildfire, the Holy Spirit spread through their ranks, and they started speaking in a number of different languages as the Spirit prompted them.
Even Jesus had to wait on God.
John 5:19

Holman Christian Standard Bible (HCSB)

19 Then Jesus replied, "I assure you: The Son is not able to do anything on His own, but only what He sees the Father doing. For whatever the Father[a] does, the Son also does these things in the same way.

GUIDED PRAYER—Prayer emphasis on asking God to open our hearts, and pour out His spirit on us. Ask God to speak to us corporately as a body of Christ, and individually as believers.
E—Empty our Hearts and Minds of Self-Will and Sin
Psalm 141:4

Holman Christian Standard Bible (HCSB)

4 Do not let my heart turn to any evil thing
or perform wicked acts
with men who commit sin.
Do not let me feast on their delicacies.

I am a strange creature with two opposing minds in one body.

Two distinct life forces in me keep trying to control my actions.

There are things about myself that scare me. Things like a great inner need that can't be explained. Like the constant need for love and fulfillment. Also, those subtle desires that surface on occasion, making me lust for experiences that are contrary to my better nature.

I can't explain why I am such a dual person when it comes to right and wrong. The evil that I hate is always present in me. The good and moral desires are there too, keeping my mind in constant turmoil. It is not an every day, all day long battle, but the evil, at times, tries to overpower me.

Just when I think I've got my act together, things fall apart, and once again I am doing things I really don't want to do. (SOURCE: David Wilkerson http://www.ldolphin.org/twoofme.html)

In order to prepare for revival we must ask God to remove from us that which is unholy and impure.

Psalm 51:10

New International Version (NIV)

10 Create in me a pure heart, O God,
    and renew a steadfast spirit within me.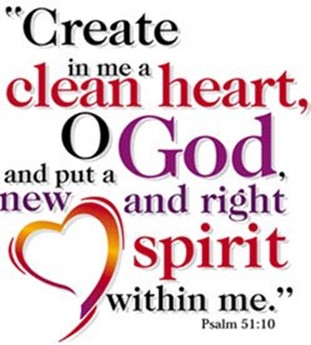 This season of prayer will be individual and silent. You are not confessing to me, or to the church—you are confessing to God.

I want you to draw an imaginary bubble (or circle) around your whole body. Make sure that this imaginary circle contains every part of your from the top of your head to the soles of your feet.

Now imagine that God is physically present with you inside of the circle. There is no one else in the circle but you and God. Now just talk to Him.Talk to Him just as you would a friend or a trusted family member. Pour your heart out to Him.

During this time of prayer I want you to ask God to reveal to you any unconfessed sin in your heart. Then listen to Him as to how He wants you to deal with it. You may find during this time that there is someone here that you have wronged, or you have ill will in your heart toward. If this is so, and God is leading you to do not wait. DO NOT WAIT. Get up from where you sit, and make things right. This is the time to do that. If you needto step outside and make a phone call to make things right with someone not here, do it!

Do not leave this season of prayer with sin still in your heart. If you do, then it will be you that is quenching the Holy Spirit and stifling revival.

Thank God for cleansing and renewing your mind and heart. The goal of this segment of our service is a CLEAN HEART.

A—Ask
Now that we have a clean heart we can more clearly hear what it is that God wants from us. We spend so much time and energy articulating what it is that we want from God, and when we have that mindset we are completely and totally backward. We need to be asking God what He wants.

John 5:17-20

GOD'S WORD Translation (GW)

17 Jesus replied to them, "My Father is working right now, and so am I."

18 His reply made the Jews more intent on killing him. Not only did he break the laws about the day of worship, but also he made himself equal to God when he said repeatedly that God was his Father.

19 Jesus said to the Jews, "I can guarantee this truth: The Son cannot do anything on his own. He can do only what he sees the Father doing. Indeed, the Son does exactly what the Father does. 20 The Father loves the Son and shows him everything he is doing. The Father will show him even greater things to do than these things so that you will be amazed.

As we seek revival we need to understand what God's plan is for our life. Once we know God's will, then we are able to adjust our plans, goals, and activities to join Him where He is working.

With a cleansed heart we can ask God to burden us with the needs of our church and our community. We can ask God to direct us to the ministry He would have for us.

For this season of prayer we are going to divide into smaller groups of 4 or 5 people. Simply get together with several people near you. Turn around, move to the next seat, however you need to do it to get with some other people. Maybe to make it interesting, you might consider getting with a group of people you don't normally pray with!

Pray for:

Your Family

Those in your family circle that are lost

Lost Friends

The churches and the leadership in the churches in our community. (Remember, all Christian churches have the same mission)

Pray for our city, our state, and our national government

Pray for spiritual awakening in our nation


Pray for First Baptist Church South Daytona


Pray that we will have a fresh vision

Pray that we will reach our community

Pray that we will evangelize

R—Restoration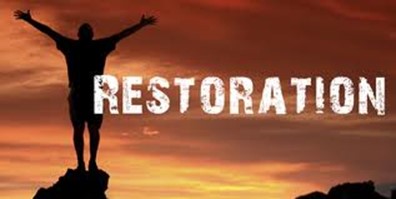 Once we have confessed our sin, and made things right with God it is time to be restored to His fellowship. Sin breaks our relationship with both God and man, and when we get things right, then we can be restored.

You may have already answered the call earlier to make things right with another, and if you have PRAISE THE LORD! If not, maybe God has spoken to you through the process we have been following.

Restoration is the goal of a Solemn Assembly. The purpose of us gathering tonight is for God to convict us and give us the opportunity to be fully restored to fellowship with Him.

1 Peter 5:10

Holman Christian Standard Bible (HCSB)

10 Now the God of all grace, who called you to His eternal glory in Christ Jesus, will personally[a]restore, establish, strengthen, and support you after you have suffered a little.[b]

John 20:31

Holman Christian Standard Bible (HCSB)

31 But these are written so that you may believe Jesus is the Messiah, the Son of God,[a] and by believing you may have life in His name.

Psalm 71:20

Holman Christian Standard Bible (HCSB)

20 You caused me to experience
many troubles and misfortunes,
but You will revive me again.
You will bring me up again,
even from the depths of the earth.

It is through this restoration that the previous verse is talking about that revival will begin. When we get right with God, He restores us and revives us.

As we go to prayer I want you to ask God if there is anything He wants you to do or say (notice I said anything GOD wants you to say) before we leave this assembly. Ask God to reveal to you any actions left untaken to allow Him to freely bless you. Ask God to show you right now who in your circle of friends needs to receive the life changing salvation of Christ. Ask God who needs your involvement in their life, and who needs you to lift them up in prayer. Ask God to show you what actions you need to take tonight to start revival in your church.

In our season of prayer I want you focus specifically on DOING what God has revealed to you. Just as before, if it means getting up and doing some sort of action do it. Get up from where you sit and do it. Go hug a neck if you need to, or join someone in prayer. Don't be timid, don't be afraid. Get up and do what you need to do.

T—Take Home What God Has Said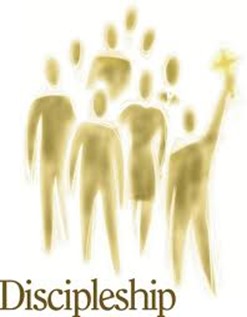 In The Cost of Discipleship, Dietrich Bonhoeffer penned the words, "Cheap grace is grace without discipleship, grace without the cross, grace without Jesus Christ, living and incarnate" (1959:47). Cheap grace means living as though God ignores or condones our sins. But forgiveness means that sin is real, and must be dealt with. We cannot ignore it, because God does not ignore it. The denial of sin is not grace: it is a lie. Cheap grace means living without the demand of obedience upon us.

If you leave here tonight and don't take home with you what God has spoken to you about, then you have wasted your evening. This night of Solemn Assembly is the starting point of our journey for revival here at FBC SD. It is a journey that each of you must take seriously and be obedient.

Sin is a serious problem, and God will not tolerate it. We have spent the evening learning how to identify and repent of the sin in our life, and if we have been honest in our quest this evening then we are starting with a clean heart. It is up to us to keep it that way.

Let us close in prayer, then sing a song together and leave this place with revival in our H. E. A. R. T.

Adapted from the Guidelines for A Solemn Assembly distributed by the Florida Baptist Convention for the 2013 Day of Prayer. (Source: http://www.flbaptist.org/Portals/0/PSA/PDF/2011-11-18A-PSA-SolemnAssembly-HEART-Guidelines.pdf)